Unfortunately, Hurricane Matthew is wreaking havoc, not just in Florida, but also to the con, due to its impact on the travel plans of some of our guest. Regrettably, both Camille Keaton and J. LaRose, who were coming from the state, have had their flights canceled by the airline, who are shutting down all services out on Friday. So we're sorry to announce they will not be present. Debbie Rochon has also had to cancel, due to a bout of pneumonia. Ick! We hope Camille and J stay safe this weekend, and Debbie recovers soon!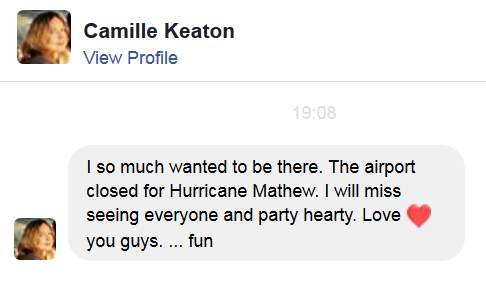 The following alphabetical list are those still scheduled to appear at Phoenix Fangoria Fearcon*
Eugene Clark

Clark's best-known theatrical film role was in George A. Romero's Land of the Dead as the head zombie, "Big Daddy" But he has a lengthy résumé in American and Canadian television, notably a prominent role as Sid Gomez in the 90s sci-fi show William Shatner's Tek War, which ran for two seasons and had the highest viewership rating ever on basic cable at the time for its premiere. Other appearances include appearances on Night Heat, The Twilight Zone, Side Effects, Tropical Heat, Sue Thomas: F.B.Eye, and Trailer Park Boys: The Movie.

John Dugan

What? Grandpa Sawyer from the original Texas Chainsaw Massacre is still alive? Yes, for Dugan, who played him, was actually only in his thirties when he played his iconic role. He all but retiref for the next 30 years, save a cameo in Texas Chainsaw Massacre: The Next Generation, but has returned to genre cinema with a vengeance since 2007, including resurrecting Grandpa Sawyer for Texas Chainsaw 3D. He also played Dr. Harper in an adaptation of Stephen King's The Boogeyman and is set to appear in Book of Ash alongside another FearCON attendee, Lynn Lowry.

Lynn Lowry

Her first film appearance was I Drink Your Blood in 1970, and she appeared in two definitive horror movies of that decade, George A. Romero's The Crazies and David Cronenberg's Shivers [she made a cameo in the remake of the former]. We remember her particularly as the hooker mauled by Malcolm McDowell in 1982's Cat People. Her more recent films include Splatter Disco, Basement Jack and Schism, which she co-wrote and co-produced, and she also starred in Dante Tomaselli's Torture Chamber, as well as in Model Hunger.


Robert Mukes

This mountain of a man originally intended to be a professional wrestler until injuries closed that door. The 6'10" Mukes instead turned his talents to acting, making his feature debut is Sinbad: Beyond the Veil of Mists as a guard and executioner. Appearances since include Black Mask 2: City of Masks, then his most famous character, Rufus "R.J." Firefly, Jr. in Rob Zombie's House of 1000 Corpses. He's also known for a recurring role in Showtimes's Weeds, as eskimo bounty hunter Abumchuck, and as Sentinel in cannibal Western Bone Tomahawk.

Monique Parent

Monique Parent is known for smoldering love scenes and intensely charismatic characters. She has been called The Thinking Man's Sex Symbol. Born and raised in a small town on the Central Coast of California, Monique took the plunge and moved to Los Angeles in 1990. She studied at the Beverly Hills Playhouse and her first movie was Secret Games the following year. Monique has worked in a wide variety of genres, including sci-fi (Jurassic City), horror (Blood Scarab, The Perfect House, Profane Exhibit), indie drama (The Pornogropher, Los Jornaleros), and comedy (Busted, The Fergusons), appearing in well over 100 films, in a career spanning 25 years.

Tiffany Shepis

One of the hardest-working actresses in the genre, and a FearCon favorite, Shepis has been involved in film-making since the age of 12. She first acquired cult status with her role in Tromeo & Juliet (the first film by Guardians of the Galaxy's James Gunn) and has barely stopped since. Her credits include Death Factory, The Hazing, Nightmare Man, Night of the Demons, The Violent Kind, Model Hunger, 12 Monkeys – and of course, Sharknado 2: The Second One.

Ari Stidham

Ari is best known for playing math genius Sylvester Dodd in the TV series Scorpion and his role in Huge. However, he is a musician too, performing music as DRTV (Dr. Television), and plays piano, guitar and trumpet. Ari is also a writer and director – we are delighted to be screening the world premiere of his first directorial feature as part of Fangoria FearCON. Ari can be followed on Twitter at @AriStidham.

Lew Temple

A former baseball scout, Temple moved into acting in the mid-nineties, but hit the horror radar a decade later with his role as Adam Banjo in The Devil's Rejects. His other genre roles have included Sheriff Winston in The Texas Chainsaw Massacre: The Beginning and Noel Kluggs in the Halloween remake, and a recurring role as Axel in The Walking Dead. He was also part of House of Forbidden Secrets which played at our festival in 2014.

Jay and Marie Yates

Founders of one of America's top paranormal research teams, the C.O.P.S. Crew, they've been part of many investigative shows, including Travel Channel's Ghost Adventures and Ghost Adventures: Aftershocks, SyFy Channel's Paranormal Witness, Destination America's Haunted Case Files and Biography Channel's My Ghost Story. They will be hosting panels on Saturday and Sunday at the FearCON.
* – As ever, subject to change. You know how it is!