Special Midnight Releasing Showcase!
Dir: Larry Kent
Star:
Sarah Smyth, Shane Twerdun, Andrew Dunbar, Andrew Moxham, Missy Cross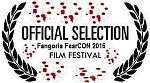 Driven by religious fervor and hateful ignorance, a preacher and his followers seek to enact God's righteous and brutal revenge upon Angela, a nurse who seeks to help the women and children of an ailing mining town.
The cast here has strong ties to a number of pop culture fan favorites, also including Jewel Staite from Firefly. Sarah Smyth is known for her role on Hallmark's Cedar Cove as well as parts in Supernatural and Smallville. Andrew Dunbar has appeared on Arrow and Battlestar Galactica: Razor. The production design and art direction for the feature were by Ricardo Alms, who worked on The Haunting in Connecticut and The Assassination of Jesse James by the Coward Robert Ford.
[slideshow_deploy id='2488']
This highly-acclaimed film has won awards at a number of festivals, including Best Feature Film, both for Fantasia 2015 and Blood in the Snow 2015. It was honored as Scariest Film at the 2016 Fright Night Festival, and was chosen as one of the Top 10 Motion Pictures of 2015 by The Film Corner. They also awarded Missy Cross the title of Best Supporting Actress for the year.
The horror is all in the reality and gravity of the situation that plays out on screen… That's where the heart of She Who Must Burn resides and what makes it a distinctive and significant horror film.
— ModernHorrors.com
She Who Must Burn works because it makes the provocative personal. It's an extraordinary piece of filmmaking that digs past the headlines which make us shake our heads over coffee in the morning.
— FilmThrills.com
Thanks to festival partners at Midnight Releasing for arranging a screening of this film.
---