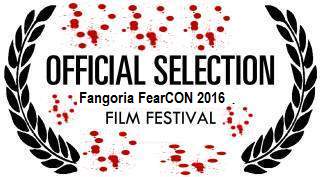 Check back often, as we'll be announcing more exciting features in the days leading up to the event! Most of these will be shown twice over the weekend, on separate days, so you can pick the screening time that fits with other events, panel discussions, etc. Seating will, however, be on a first-come first served basis – unless you have a VIP ticket, which will get you access to a special block of reserved seats at each screening. Even those, however, are subject to availability… Some of these screenings are likely to be full! You have been warned!
[slideshow_deploy id='2414']
Curse of the Siren (US, 2016)
Dir: Ari Stidham
Star: Brock McKenzie, Maggie Wilson, Ella Schaefer, Amanda McCants
World Premiere!
20-something Nick meets a gorgeous girl at a karaoke bar and brings her home. After she leaves, he starts noticing strange happenings in the house, but can't convince sisters, Katie and Jenna, anything is going on. But when people start vanishing at a party hosted by them, all will have to struggle to make it out of the party alive as the horror of the night's events becomes clear. From pool party to search party!
Mania (US, 2015)
Dir: Jessica Cameron
Star: Ellie Church, Tristan Risk
Mel (Church) and Brooke (Risk) are lesbian lovers, the latter unstable to the point of lethality, Left to her own devices one day, and unable to contact Mel, Brooke murders an innocent bystander. When Mel comes home, to be greeted with an impromptu butcher's shop, she opts to make a run for it with Brooke, and thus begins a cross-country cavalcade of carnage…
Model Hunger (US, 2015)
Dir: Debbie Rochon
Star: Lynn Lowry, Tiffany Shepis, Brian Fortune, Carmine Capobianco
Special screening with Debbie Rochon, Lynn Lowry and Tiffany Shepis, and a Q+A afterward!
Former glamor model Ginny Reilly (Lowry) has been carrying a grudge for decades, ever since losing her position as a cover-girl. This bubbles to the surface when two cheerleaders from the local school come by on a fundraising visit. Meanwhile, recently moved in next door are the Lombardos. Debbie (Shepis) is recovering from mental illness, with a largely unsympathetic husband (Capobianco) and is increasingly suspicious of Ginny. Unable to get the local cops to take her seriously, she ends up investigating her neighbor…
Peelers (Canada, 2016)
Dir: Sevé Schelenz
Star: Wren Walker, Caz Odin Darko, Madison J. Loos, Cameron Dent
Peelers takes place on the closing night of a small town strip club when a group of unwanted guests arrive and all hell breaks loose. Club owner and ex-ball player, Blue Jean Douglas, is our sexy, confident, ass-kicking heroine who rises to the task of protecting both her girls and her bar from psychopathic infected killers who will stop at nothing to slaughter everyone. Peelers is a story packed with strong characters, exciting twists and lots of blood.
Psycho Magnet (US, 2016)
Dir: Michael Paul
Star: Anne Paul, Ben Hopkins, Cynthia Cain, Mac Deville
World Premiere!
Hopelessly naïve, Fern (Anne Paul) is a psychic who specializes in communicating with the dead. She finds herself homeless in a small town where people mysteriously keep going missing, and she's desperate for a way out. When Fern accepts a job from the town's amiable auto shop owner, Denny (Ben Hopkins), and his controlling wife Cherry (Cynthia Cain), family drama turns into a fight for survival. Taken hostage and surrounded by the disgruntled dead, Fern must wage war or die.
She Who Must Burn (USA, 2015)
Dir: Larry Kent
Star:
Sarah Smyth, Shane Twerdun, Andrew Dunbar, Andrew Moxham, Missy Cross
Special Midnight Releasing Showcase!
Driven by religious fervor and hateful ignorance, a preacher and his followers seek to enact God's righteous and brutal revenge upon Angela, a nurse who seeks to help the women and children of an ailing mining town.