Phoenix FearCon 2016: A look back
We've finally surfaced from the usual bout of "convention jet-lag" – the week after the event is inevitably one spent recharging and recovering from the days and weeks of frantic running around! That was doubly so this year, because of the (frankly, insanely!) short time-scale involved. Less than two months after the official "resurrection" announcement on August 10th, the doors opened. It took an astonishing amount of effort by all the wonderful folks involved, and we're still amazed it happened at all [but memo to our future selves: next time someone suggests that, just walk away… laughing hysterically!]
The new venue, Sun Studios of Arizona, was just about perfect. It offered a large screening theater for the films, separate rooms for the celebrities/dealers and the panels, and a nice bar area upstairs, where guests (21 and over, naturally!) could enjoy an adult beverage or two. This year's FearCon was also bigger in several ways than previous editions, running from Friday afternoon through to Sunday night, and with the largest line-up of guests ever. As well as familiar FearCon names like Tiffany Shepis plus Jay and Marie Yates, we were delighted to have a bevy of new favorites like Eugene Clark, John Dugan, Lynn Lowry, Robert Mukes, Monique Parent, Ari Stidham and Lew Temple.
Our beneficiary charity, as always, was The Phoenix Shanti Group, which we hold near and dear. For over 25 years, the Phoenix Shanti Group has provided housing, education and direct client services to individuals, families and loved ones infected with/affected by HIV/AIDS. Their shop on 16th Street and Indian School Road – Shanti's 2nd Chances sells consignment items and picks up donations at your home if you'd ever like to help.
In addition to the traditional screenings of features and short films, there was also a lot more other entertainment. The parking lot in front of the studio included a selection of recognizable vehicles, from a black 1967 Chevrolet Impala with a trunk full of weapons, suitable for demon hunting through to the Ghostbusters ambulance. There were stalls, food trucks, vendors of all types, including a group of CosPlayers with a 14 foot python and a blood pool, Predators from the Desert Destroyers, Satan himself, more than a few costumed characters, and a stage which saw performances through the weekend, from the smooth sounds of Ari Stidham and his band, a Thriller Flashmob for M.S., to the Agents of Lust, whose fiery exploits (below) drew an appreciative audience of fellow pyromaniacs!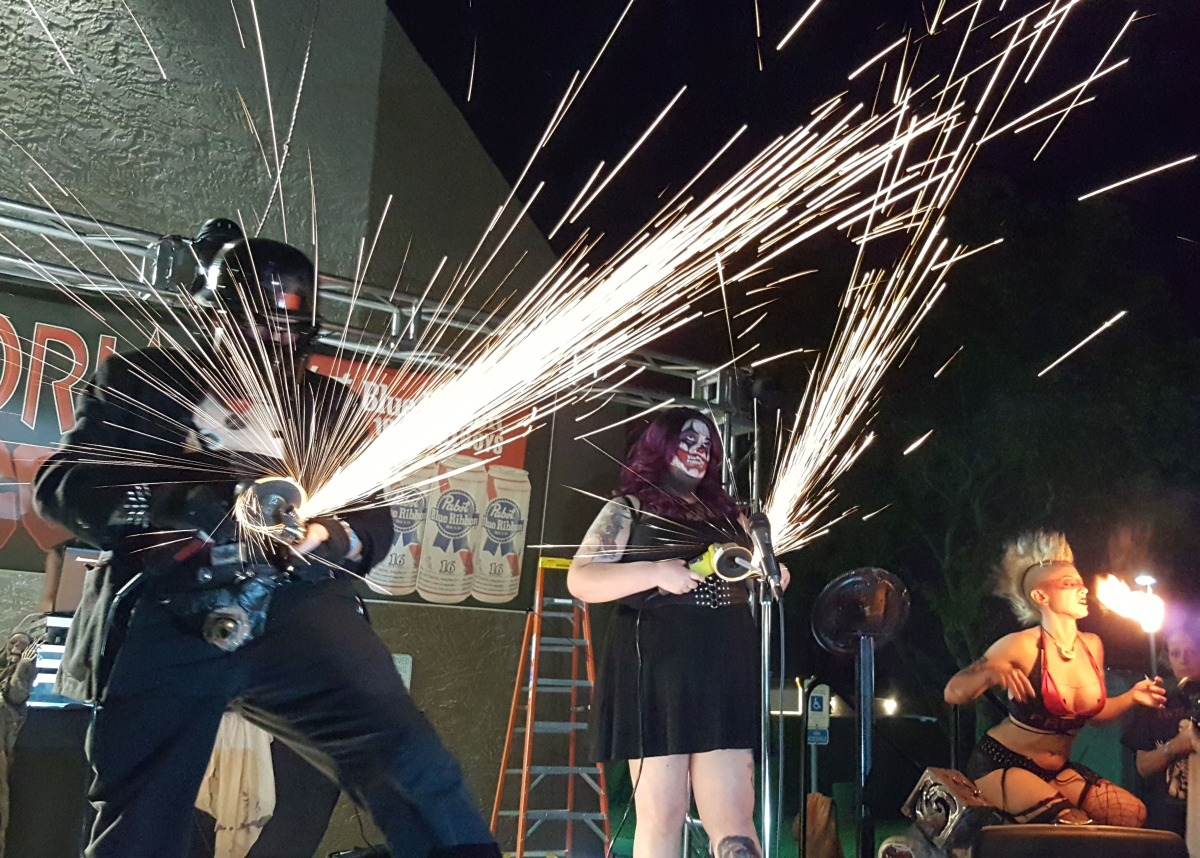 Inside the building, things were no less active, beginning right inside the front door, where on one side, you had the tasty treats of Kiki's Cupcakes, who had come up with a whole horror-themed menu of delicious confectionery creations. On the other side you had Jason McMahon of Twisted Airbrushing and his… ah, tasty treats. 🙂 Because Jason and his team slaved away all weekend, using the skin of their models (and anyone else who paused too long in the vicinity!) as a canvas, to be transformed into everything from zombies into a flesh billboard for the event. Check out the slideshow below for some examples of his amazing work. The foyer was also home to Star Worldwide Network and Con Air Radio, who were kept busy interviewing the celebs and special guests all weekend.
In the Dealer Room we got to see all manner of items for sale including Ghost Hunting services by Jay and Marie Yates, Tattoo Art by Evocative Art, a Zombie Workshop, lots of amazing horror toys, comic books, Texas Hold'em with Zonbies, Jewelry, Clothing, The Horror Show, and, of course, Celebrities of horror movies and television, all there for photo ops and autographs. It didn't take much to glean a compelling story or two out of them.
Panel room duties were split between Michael Flanders' Bloody Ramblings Horror Block and The Horror Show, who kept audiences amused and entertained as they covered a broad range of horror-related topics. The panel room was also the stage for Friday night's performances. This first featured Vaudeville troupe, the Gaslight Circus, delivering a mix of comedy, magic, dance and mysticism, and then got particularly hot 'n' moist with the ladies from VaVaVoom Burlesque, under the watchful eye of their High-Empress, Madam Lucy Morals. Sorry, guys: no pictures of that one – but those who were there won't forget it in a hurry anyway! At The Movies, with Len Berger and Mark Boniece, was another highlight, opening proceedings on Sunday.
Here seems like a good place to list the award winners, who get to take home one of Chris's famous and
ferociously sharp trophies
:
Best Feature: Peelers, Sevé Schelenz
Best short: The Call of Charlie, Nick Spooner
Best Arizona short: From Rise to Set, Adolpho Navarro
Audience favorite: Psycho Magnet, Michael Paul
Best actress (tie): Lynn Lowry and Tiffany Shepis
It was, as ever, a learning experience, and we'll be building the lessons learned into future events, e.g. three days is likely a bit too long. Oh, and the whole going from zero to convention in two month thing? Never again! When, where, how and in what form FearCon will resurface, only time will tell, so stay tuned for updates!
Check out our gallery page for more photos [Thanks to Reagle Photography for letting us use some of their pics], and if you missed any of the features, Jim has also written reviews of all six.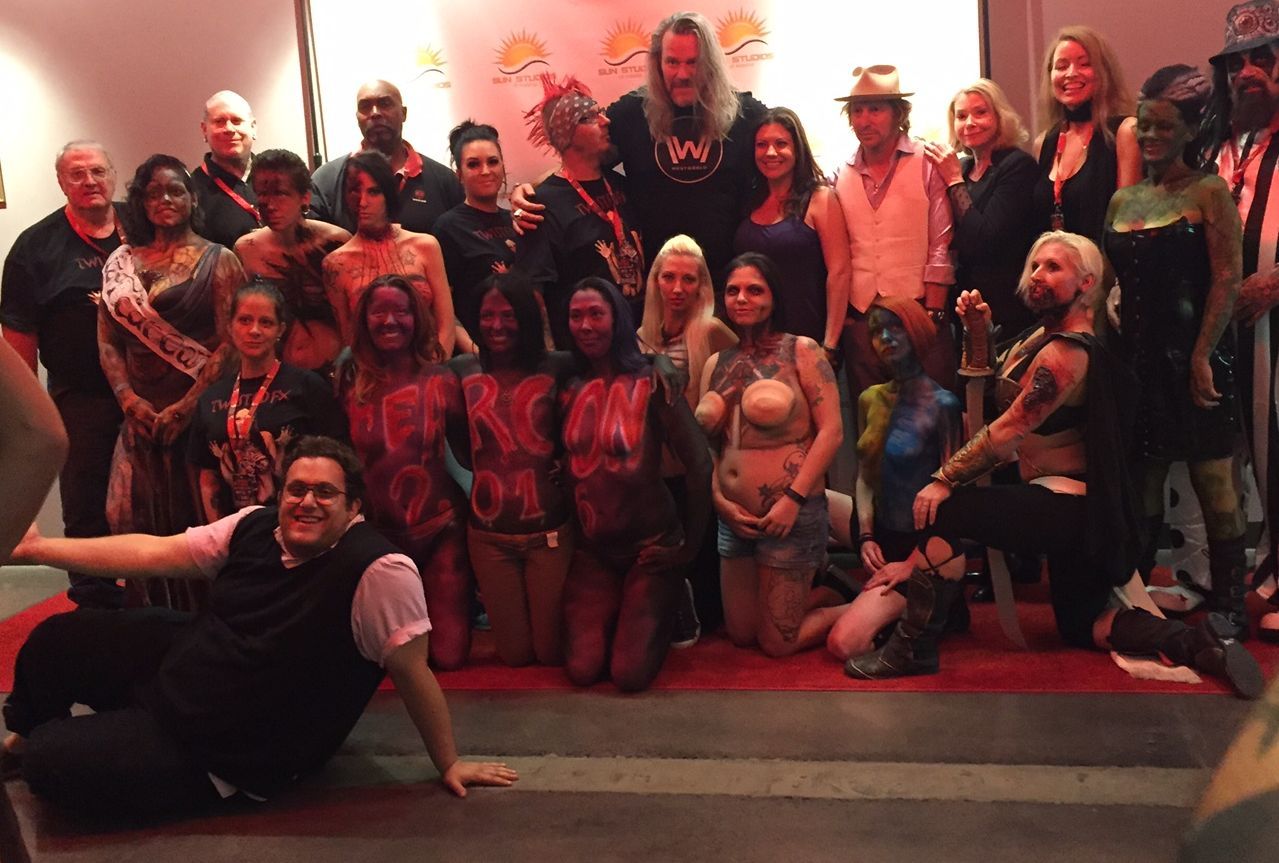 Thanks
We are merely the people who run the ship, and there are so many others, without whom this entire convention could not have taken place. So, in no particular order, we would like to thank the following for their contributions to making FearCon VII the event it was.
Sun Studios of Arizona and their staff: Ron, Ruben, Cameron, Wendy, Guy and Jon.
Darrin Ramage and Chris Wilembrecht of Midnight Releasing
Jason McMahon of Twisted Airbrushing, and his team, not just for his amazing work at the event, but also all the promotion he and his team did before it.
Pabst Blue Ribbon for their sponsorship and beer. Heineken? Fuck that shit!
Fangoria Magazine
Tiffany Shepis, for being Tiffany Shepis
All the other guests, whom we hope enjoyed FearCon as much as FearCon enjoyed them
Jeremiah for A/Ving, and ensuring Jim didn't have to spend all weekend in the projection booth
Ari Stidham + Sanguinet Films & Anne Paul + Dead Weeds Pictures, for letting us have their world premieres and coming out to Phoenix
Will-It-Make-It Cars and AZ Prop Cars for the loan of their kick-ass vehicles.
AZ Ghostbusters and the Desert Destroyers.
The vendors, inside and out, who provided ample opportunities to spend all your money
All the film-makers who submitted their features or shorts. We wish we could have shown every one
Minions. Minions everywhere. They did everything from selling T-shirts to cleaning the bathrooms, so we didn't have to, asking nothing more than a slice or two of pizza. For that, we thank them from the bottom of our hearts
Windi West and Ed Vanderlee of Star Worldwide Network
Con Air Radio and their massive tweeting skills
The Horror Show, Cecil/Marsha/Jaime for all your help
Damien Drake for his chauffeur skills and taking Tiffany's shit
Horror Heroes Podcast, Beyond the Veil Podcast and GoreHor Podcast
Michael Flanders and Cecil Laird for their mad panel skills
Lucy Morals + VaVaVoom Burlesque, the Gaslight Circus and the Agents of Lust for their performances
Arizona Real Estate Connection – thank you for the food!!