We're delighted to welcome an entire horde of those who have appeared in The Walking Dead to the FearCon! Here they are, starting with the "living" members of the cast!
Theodus Crane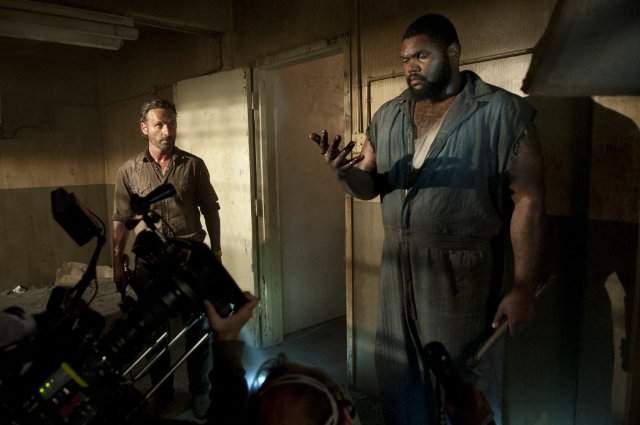 American actor Theodus Crane is best known for portraying Big Tiny in AMC's The Walking Dead, one of prisoners in residence when Rick's group arrived at the jail in season three. He started his professional acting career in 2008 in Atlanta, Georgia, his hometown. He has performed on stage, in burlesque and vaudeville shows, and sideshow acts, and began his film and TV career in 2010. He currently resides in New Orleans, LA. Theodus is also a fighter and holds the amateur world heavyweight title in San Shou, a Chinese form of kickboxing.
Kyla Kenedy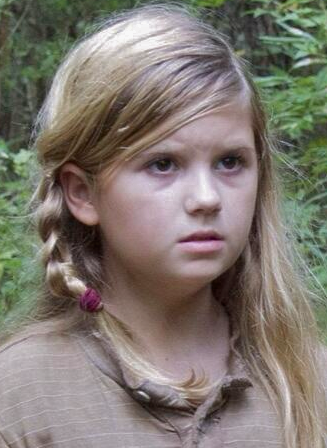 Kyla was pivotal to one of the most shocking and most-discussed moments in Season 4 of The Walking Dead. During the episode The Grove, her character, Mika, was killed by her disturbed sister, Lizzie, who had increasingly been consumed by the delusion that walkers were people too. She and Lizzie had joined the cast between season 3 and 4, becoming part of the group of children in the prison, with Carol acting as their adopted mother. After the fall of the stronghold, she initially traveled with Tyreese and baby Judith, before reuniting with Carol. But Lizzie's mistaken belief lead to tragedy – not just for Lizzie, but Carol, who then has to prevent Mika from coming back, as well as handle the perpetrator…
Kyla has also appeared on TV in CSI: Crime Scene Investigation and on several episodes of NBC's sitcom, The New Normal. You can also follow her on Twitter, @kenedy_kyla, for lovely Tweets such as, "When life gives you lemons make orange juice and leave the world wondering how you did it!" Of her time on the show, when asked if she watched her episodes, she said "Yes, But sometimes when it gets too scary I close my eyes." That's not just you, Kyla. It's true for us too…
Plus, in alphabetical order of shambling…
Greg Crews
Greg grew up with a passion for acting and the arts, leading to principal roles in The Internships and The Walking Dead, and he's one of the few to have worked on three out of the four Hunger Games films, as a Peacekeeper. He also portrays a police officer in many feature films as well as television. His behind the scenes resume includes standing in for Bill Paxton and Kenneth Johnson among others, when they work in Georgia. His muscular build and off the wall sense of humor has earned him roles on over 70 major productions. He is also an avid supporter of the Georgia Film Tax Incentives scheme and promotes it as often as he promotes his work. He runs local tours and meet and greets for fans of The Walking Dead, and has appeared on several radio and podcast interviews around the world.
Michael Koske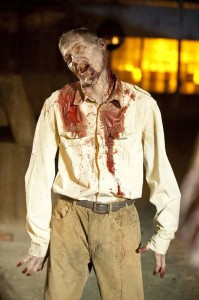 Michael is an American actor living and working in Middle Georgia. His acting credits include frequent appearances as a featured "Walker" on The Walking Dead. His zombie likenesses have graced the pages of Entertainment Weekly, TV Guide, The Walking Dead Official Magazine, the cover of The Ultimate Guide to Zombies, Rolling Stone, and most recently, the cover of TV Guide. He has also appeared as a daywalking Vampire on the spinoff for The Vampire Diaries: The Originals, USA Network's Necessary Roughness, The Following featuring Kevin Bacon, and his movie roles include The Crazies anf The Hunger Games: Catching Fire, as well as being featured in independent zombie film Level 7, just released to DVD. His most recently appearance was in the film adaptation of the video game Need for Speed. Michael frequently appears at conventions in support of his second life as a member of the undead community.
Larry Mainland
Larry Mainland is a professional actor and stuntman based out of Atlanta, Georgia. Best known as a featured zombie in AMC's The Walking Dead, his image was the first to be released from the set before the show aired, and has since been used extensively for advertising by AMC in the US and in more than 135 countries by Fox International and others.
He has been on the cover of numerous magazines, including Entertainment Weekly in the US and SFX in the United Kingdom and his image can be found seen from t-shirts and mugs to board and video games. In addition to The Walking Dead, Larry's Film and TV credits also include such notable entries as Contagion, The Three Stooges, Sick People, Level Up and Home. His personal site is LarryMainland.com.
Markice Moore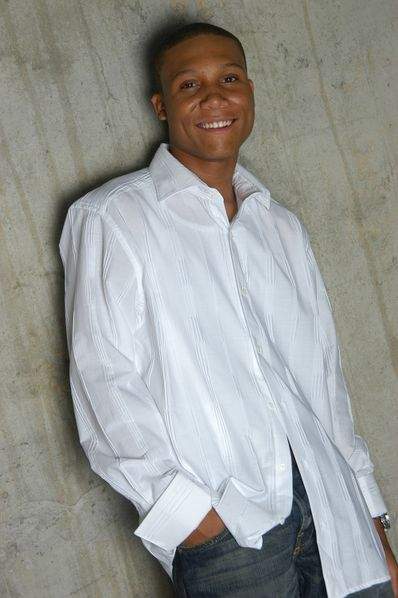 Also known as Kesan, he was born in New Brunswick, New Jersey, in the late 80's just as hip­hop was entering its formative years. R&B superstar Ginuwine asked him to rap on the his hit single In Those Jeans during an appearance on BETs 106th & Park. He began honing his skills as an actor, landing a lead role in the Dallas Austin produced television pilot, Coming Up Roses. and a supporting role in the feature film ATL, starring T.I. and Antwan 'Big Boi' Patton and directed by Chris Robinson, where Kesan played a young cousin to Big Bois character. His most notable role to date is as Andrew on AMC's hit show The Walking Dead, one of the inmates of the prison found by Rick and the other survivors.
Mike Mundy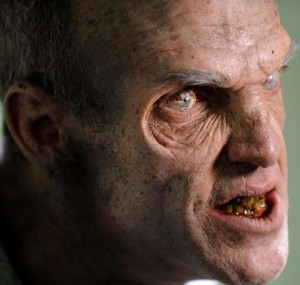 Mike lives in Atlanta where he works, as an actor whenever possible! His most recent notable appearance includes the television show The Walking Dead, where his eyeball was showcased in the opening shot of the season 3 premiere. The shot pulled out to reveal "Grandpa Walker," who soon succumbed to a fire poker in the head gifted by T-Dog. Mike has also appeared in movies such as Flight, among others. In May, he will appear in The Devils Knot with Reese Witherspoon and Colin Firth, which is based on a true story about the trial, conviction and release of the West Memphis Three.
Sonya Thompson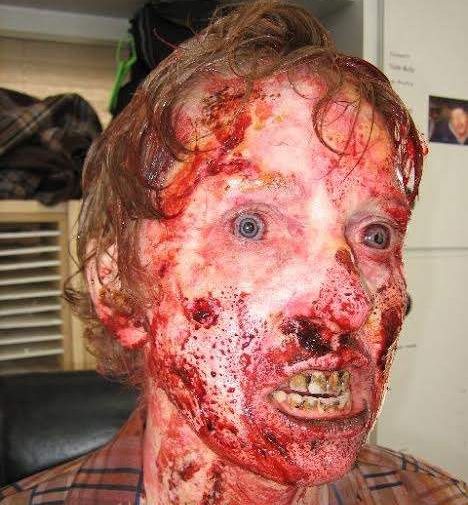 Sonya Thompson is a Georgia born actress, known for her roles in The Walking Dead and Zombieland. She has been featured on the cover of Entertainment Weekly, SFX, DVDReview, and inside many others, Her image can be found on the inside of every season one special edition DVD/Blu Ray of The Walking Dead, world wide. She has also worked on Halloween 2, All Hallows Evil: Lord of the Harvest, Prosper, This Old Machine, The Lumber Baron, More Than Diamonds, Encuéntrate the Film, Drop Dead Diva, Night of the Jackals, Van Wilder:Freshman Year, The Blind Side, Life as We Know It, Past Life, and many more. She was a segment director for the movie Cry for Revenge, recently wrote a film entitled Into the Zombie and has a small guide out called I am Zombie, Hear me Roar! Her website is professionalzombie.com.