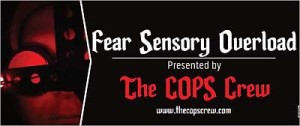 Join the C.O.P.S. crew as an investigator-in-training with their  "Full Paranormal Experience" that we will be holding during Phoenix FearCon, featuring their newest tool: Fear Sensory Overload.
Ticket Upgrade Price:  $10 per person* Find upgrade at the FearCON Box Office.
Synopsis:
Experience the fear as we take you along on a full-scale paranormal investigation that may turn some of the biggest skeptics into believers.
Details in Full:
Join the Crossing Over Paranormal Society in their signature "Full Paranormal Experience". We will be utilizing techniques that reduce some of your senses and may increase your sixth sense as we make contact with the dead. All of this will take place in some of the most active locations at Fear Farm.
Fear Sensory Overload is a paranormal experiment that uses fear as a tool to potentially induce a possible paranormal experience. After over ten years of paranormal investigations both Jay & Marie Yates have noticed a trend on the investigations they have conducted or experienced in their own lives. The trend is that most haunting start out small with foot steps, shutting of doors, and dis-embodied voices. Soon after, they notice that the clients begin to have a large amount of fear. We believe that emotions such as fear acts as an energy catalyst that increases the paranormal activity in a location. Once fear is introduced into the location the paranormal activity tends to grow into a much more intense haunting. Many people in the paranormal community would consider this type of haunting a Poltergeist. A Poltergeist can stem from many different elements such as extreme emotions like Fear.
You will participate in some very unconventional experiments that will have you talking about your experiences for a lifetime!
Additional Details:
This is NOT for the faint of heart, this is a REAL paranormal investigation, NOT for children under the age of 13 years old, ALL children under the age of 18 will act as observers, & all minors MUST be accompanied by an adult.
*Tickets for the C.O.P.S. Paranormal Experience will go on sale when FearCON's box office opens in July. Stay tuned!