All panels, presentations and performances take place on the main stage, unless otherwise indicated. Screenings take place at the Courtyard Marriott Hotel. Note: you need a wristband or badge to get into the screenings. These are only available at the main site, so be sure to go there first.
SCREENINGS
Saturday
Sunday
PANELS
The Original vs. The Remake – Saturday, 12:30pm

A breakdown of the various horror films that have seen the remake treatment. Which ones were successful? Which ones flopped? Which series are still going strong years after their original release?
The Horror of Doctor Who – Saturday, 2:30pm
Earlier this year, this iconic series celebrated its 50th anniversary, and is one of the longest-running shows on TV. We look at its horror elements and monsters, concentrating on the show's most recent revival.
Fearcon Spotlight: The Walking Dead – Saturday, 4:30pm
We'll discuss what it pulled from the comics, what it should've pulled, and what original additions have made the show a smash hit among viewers. Our celebrity guests will help share their insights.
Monsters, Angels and Demons, Oh My: An Overview of Supernatural – Sunday, 12:30pm
A breakdown of the series from now all the way to season one. Which showrunner was better? What themes are present in each season? Who's the best baddy? Are you a Sam Girl, a Dean Guy, or a slash fan?
Hail to the Queens! – Sunday, 2:30pm
Tiffany Shepis and Debbie Rochon give personal insight into what it's like being Scream Queens!
Surviving The Zombie Apocalypse – Sunday, 4:30pm
This open forum discussion speaks with experts about their personal do's and don't's when it comes to surviving the zombie apocalypse.
Fearcon Spotlight: American Horror Story – Sunday, 6:30pm
Ghosts, crazy killers, and witches; what's not to like? This panel discusses the show's success and talks with one of its stars about what it's like being part of the horror.
"Momento Mori": Victorian death photos – Sunday, 9:00pm
In the Victorian era, families would take pictures of the dearly departed, sometimes with the dead! A lot of the time these were the only pictures taken of the deceased. This panel is a look into these pictures and how the people died.
PRESENTATIONS AND PERFORMANCES

Alaina Damewood: Exorcism and Possession – Saturday AND Sunday, 12:00pm

How does the depiction of possession and exorcism in the movies compare to what happens in real life? Find out, from a genuine exorcist!
Workshop with Dee Astell: Spooky Frames – Saturday AND Sunday, 3:30pm
Make your own custom spooky frame in our make and take workshop, hosted by Dee Astell.  The workshop costs $10.00 and includes the frame, paint, and decorations.on Saturday and Sunday at 3:30pm
Paranormal Investigations with the COPS crew and John Brightman – Saturday, 5:30pm AND Sunday, 8:00pm
Along with special guest John Brightman, the COPS Crew talk about their investigation of the Fear Farm and offer audience members a personal look into an onsite haunting! There is a follow-up session, beginning at the COPS booth at 9pm on both nights.
Conversations + Cocktails, with Ken Foree – Saturday, 6:30pm
Ken Foree reviews his career and offers personal experiences from the industry.
Who wants to be a horror buff? – Saturday, 8:00pm
A pub quiz-style trivia game where right answers get you prizes. Wrong answers get scorn and judgment.
Zombie Fashion Runway Show – Saturday, 8:30pm

What's the new style for this year's Zombie trend?  Find out at our very popular Zombie Fashion Runway Show, run by the hostess with the mostest, Dee Astell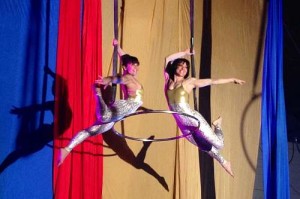 Altitude Aerialists Suspended Animation – Saturday, 9:00pm AND Sunday, 7:45pm

Beautiful, dark, daring and lovely Aerial performers who hang from satin strands, doing amazing things from up high. You'll be stunned and awed.
Entry tickets to the FearCON includes free admission to this awesome show. OR…… if you just want to see the concert, we have special Saturday CONCERT ONLY tickets with a 9:00pm admission to the event for just $10. Tickets are limited. Check our box office for details. [Links above go to vids by the artists, so you can get a taste…]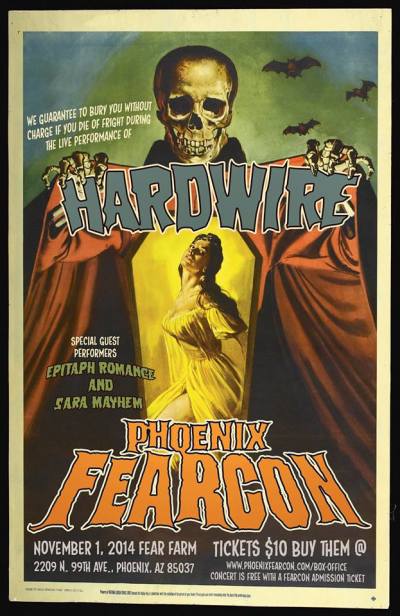 Deb's Dragons: Fear Factor – Sunday, 5:30pm

A very interactive exotic creatures show! Do you dare volunteer?
VaVaVoom Burlesque – Sunday, 7:30pm
Born from Mizz Lucy Moral's burlesque classes in 2009, VaVaVoom has grown to become Arizona's sweethearts of burlesque. The performing group presents burlesque in all shapes and sizes and from various cultural backgrounds. Teasing and pleasing is their business, and having fun is their game!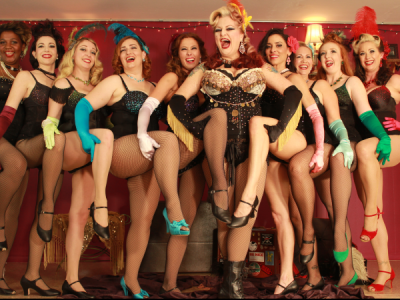 Costume contest and FearCon Awards Presentation – Sunday, 10:00pm

Enter the contest with any of our volunteers at the FearCON. Be on stage to get looked at and voted on for a chance to win CASH MONEY!
Concert: KillFloor Metal and Epitaph Romance – Sunday, 10:30pm
ALL WEEKEND!
The T.A.R.D.I.S.  (thanks to AZ T.A.R.D.I.S.)

Zombie Paintball
"Psycho" the crazy balloon twisting guy
DJ Private spinning all the best horror sounds & music
Make and Take tables – Make a souvenir and take it home!
Special FX Demos – Live Transformations & Creature FX
Artists Alley, featuring Tom Deadstuff and more
Kids Zombie Obstacle and Fun Zone
FearCON Food Court Featuring Food Trucks from around the world!
Beer Garden, sponsored by Pabst Blue Ribbon