FearCon Awards
Best feature: Circus of the Dead  (Dir. Billy Pon)
Audience favorite: Blood Runs Black (Dir. Andrew Muto)
Best director: Audrey Cummings, Berkshire County
Best short: Bar Talk (Dir. Lowell Northrop)
Best costume: Howard Turner, zombie hobo Howie
Many thanks to all who came over the weekend of FearCon 2014, whether as guests, volunteers, vendors, panelists, performers or attendees. The bigger the event gets, the more it becomes a combined effort requiring everyone's involvement to make the show happen. Without each of the groups mentioned above, it simply couldn't have taken place, and we appreciated every single person who was involved.
As a quick round-up, here's a video put together by Jim O'Rear and Scott Tepperman, which is a great overview of the event as a whole:
Also, check out the Examiner review of the event, just published: The Walking Dead cast is a hit at Phoenix FearCon 2014. From our end, it's hard to pick out specific highlights from the weekend, especially when we are still so close to it. What will survive in our memories a week, a year or a decade from now? Who knows. But right at this point, and in no particular order, here are some things that stood out:
The guest and their panels, especially the Walking Dead panel, which included all the celebrity Walking Dead actors in attendance. The audience loved them! Michael Flanders – our Panel Moderator and organizer was beyond amazing.
The performances – all of whom enthralled us with their skills, running the gamut from Va Va Voom Burlesque through Deb's Dragons exotic animals, the life-imperilling escapades of the Altitude Aerialists and, of course, the bands who closed out Saturday night's show, Epitaph Romance and Hardwire.
The screenings. Meanwhile over at the Marriott Courtyard, people were enjoying what has to be our best slate of movies – both short and features – ever. The award-winners mentioned above were far from the only talented individuals whose work was shown, and we're sure, down the road, we will be hearing more from many of the film-makers.
The cosplayers. There were a record number of these, covering a whole range of subgenres. There were Predators, Dr. Whos, Donnie Darko, American Horror Story (Twisty the Clown!), Zombie Stormtroopers, a whole bevy of Walking Dead (complete with a Terminus trough!), and many others. The amount of time and effort which went into those costumes was astonishing, and the results truly impressive.
The minions. Did we thank the volunteers already? Because we should do it again, just to be sure, because we can't do it enough. We are amazed and grateful for their efforts which, as always, went above and beyond any reasonable expectations. They slogged their guts out over the weekend, for nothing more than a T-shirt, and were awesome. Without whom…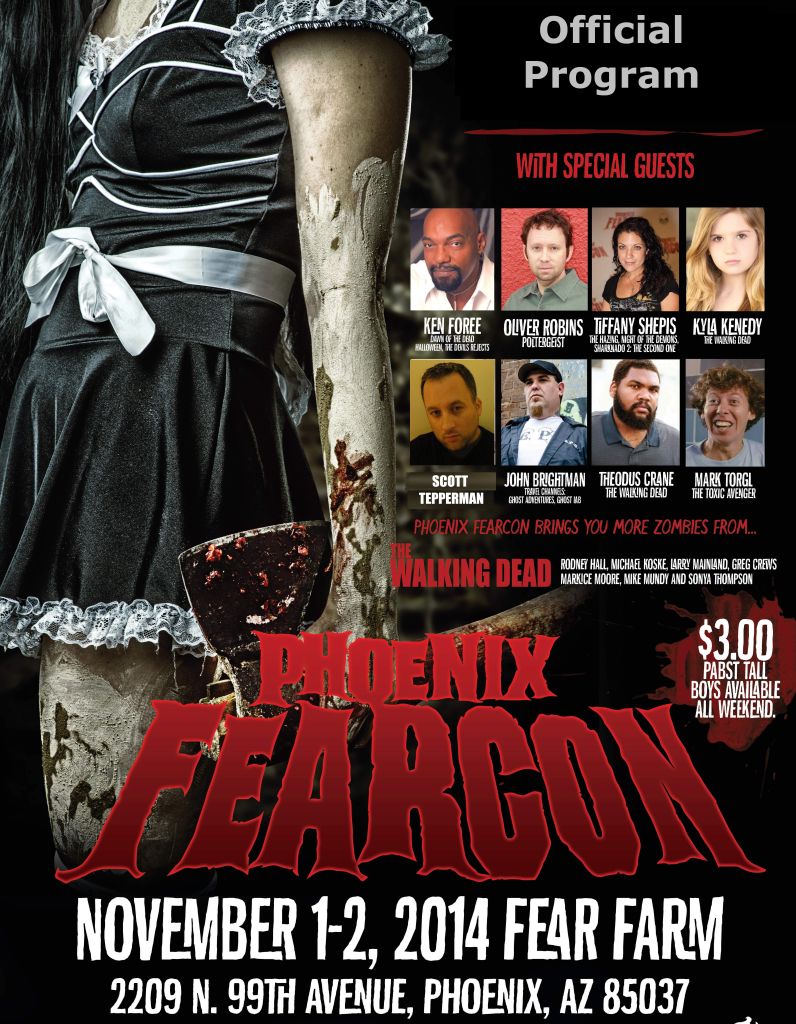 Festival Program [PDF, 8.73 Mb]
The split location, with much of it outdoors, presented its share of unique challenges, particularly during set-up on Saturday. We were badly let down by a number of service providers, who didn't approach the event with the degree of professionalism we expected, leading to delays with the stage, tents and power. We apologize for that, and learned some painful lessons. But we do want to thank the providers who  showed the same level of dedication to FearCon that we have, in particular DJ Private and his AZ Desert Dawgs, Kare Pkg Solutions, Ride the Dougie Transportation – and have we mentioned the Minions?
In a little while, we will be putting together on the site here, a photo gallery of some of the pictures taken over the weekend – if you have any, please share them with us through the Facebook page, and we'll include as many of them as possible in the gallery. Beyond that, we will be hibernating for a bit! But some day, whenever it may be, one of us turns to the other and says, "We should do X at the next FearCon." Then we'll realize we said the magic words: "next FearCon"…
Until then…
"Ph'nglui mglw'nafh FearCon Phoenix wgah'nagl fhtagn"
"In its house at Phoenix, dead FearCon waits dreaming."